General summary of life happenings from last week (April 15 - April 21).
Monday: 5 mi @ 10:35. I remember zero details about this run.
Tuesday: REST.
Wednesday: 4.5 mi @ 10:35.
Thursday: 60 min vinyasa yoga - went to a fun yoga event put on by my local Lululemon. Details below!
Friday: 3.5 mi on the treadmill at the gym - included 3x800 stretches at 6.2 mph. Then I did a strength training session--which made me so embarrassingly sore for how easy it was. Need to stick with it!
Saturday: REST. I was at work for a while, boo.
Sunday: 7 mi @ 10:42. Though I had to break it up a bit with a pit stop at the local high school for a bathroom break. No fun. Then in the evening, Dan and I went for a ~30 minute walk! This was really nice and something we want to start doing more frequently.
Weekly mileage: 20 miles.
How'd I do according to the new
non-plan plan
? Pretty good--missed one strength training session. And the particular yoga I went to wasn't heated/vigorous, but it was a nice stretch.
Dan and I went out for a "fast casual" dinner on Tuesday night at Cava Mezze Grill. I got a delicious rice bowl w/ falafel and a gazillion awesome veggie toppings and spreads. So good.
That pink stuff is pickled onion. Be still my heart.
Boring weeknight meal that can be made in five minutes flat, check:
Put bread in toaster, stick (already cut up) green beans in microwave, scramble eggs. Done.
Slightly less boring weeknight meal. I tried making some roasted chickpeas with leftovers I had from salads, thinking meh at least I'll use them up. Wow was I wrong--these were so good! Just olive oil, salt, chile powder, and paprika--toss them in the oven at 350* for 30 minutes. Definitely worth trying.
Plus sweet potatoes with sunflower butter + green beans. Can you guess what my veggie of the week was?
Dan and I did one of our at-home date nights on Saturday, which is really just an excuse for us to buy cheese/fancy meats (for him) and drink. Winning. Featuring cheese and breads, carrots + hummus, and berries. With a whiskey ginger off to the side.
Clearly the second plate feature more cheese, less produce.
As I mentioned above, I went to the "Om in the Sun" event put on by my local Lululemon on Thursday.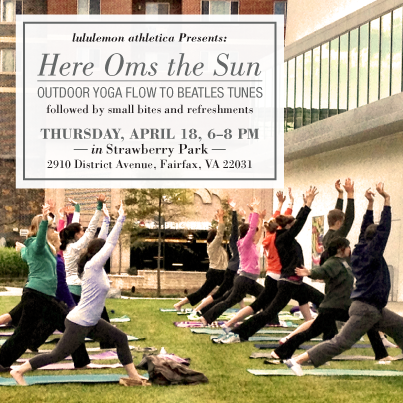 Oh look whose picture they used again.
It was a lot of fun! Not the most vigorous practice in the world, but certainly started to work up a sweat and a fun social activity. I met some new girls in my neighborhood, so that's always good! [Though, sidebar: at the beginning it felt like just a giant Lululemon employees gathering. They came from ALL OVER the DC area, not just the local store, and I felt a little weird that I didn't work for them! But then after it was clear there were others that participated too].
At the end of the session- namaste - Source: Lululemon Tyson's Facebook page.
I'm in the purple in the super distance!
And then after two local food places, Sweetgreen and Cava, fed us with quite the spread of eats! Tasty.
Sweetgreen juices (so good), dips and wraps, and a make-your-own granola bar!
Photos taken after the food was pillaged by hungry yogis.