I meant to post this on Monday, but obviously got caught up in the coverage of Boston. I don't have too much to say about it that hasn't been already said more eloquently elsewhere re: general sadness/anger at what happened, the effects on the running community, and the gratitude for spectators. My thoughts go out to the victims and their families.
I want to be better about documenting my eats, workouts, and fun events here regularly, so I'm going to try to start making this a weekly feature!
Weekly Workout Summary: April 8 - April 14
Recovery week from the 10-miler! I took it pretty easy.
Monday:
35 minutes on the elliptical plus some light upper/core strength. I thought this workout would help me "shake out" my legs, but I don't really think it helped and probably made me feel more sore the next day! Should have been a rest day.
Tuesday:
3.3 mi @ 10:40. This felt ROUGH. It was unbearably hot out (upper 80s), and my legs were still really tired from Sunday's race.
Wednesday:
90 min hot power vinyasa yoga. Oh dear god was it hot. It was 90 degrees outside--and the studio was way hotter. Truly drenched when I left.
Thursday:
OFF. Went to a coworker's apartment for a fun event!
Friday:
OFF. Spent the bulk of the day at my (likely!) future grad school!
Saturday:
6.5 mi @ 10:40. First couple of miles were a little ploddy, but after that things felt good.
Sunday:
60 min outdoor yoga class! That new-ish shopping area near me started offering free weekly outdoor yoga classes like they did
last fall
. It was a nice, easy class--a blend of hatha and light vinyasa.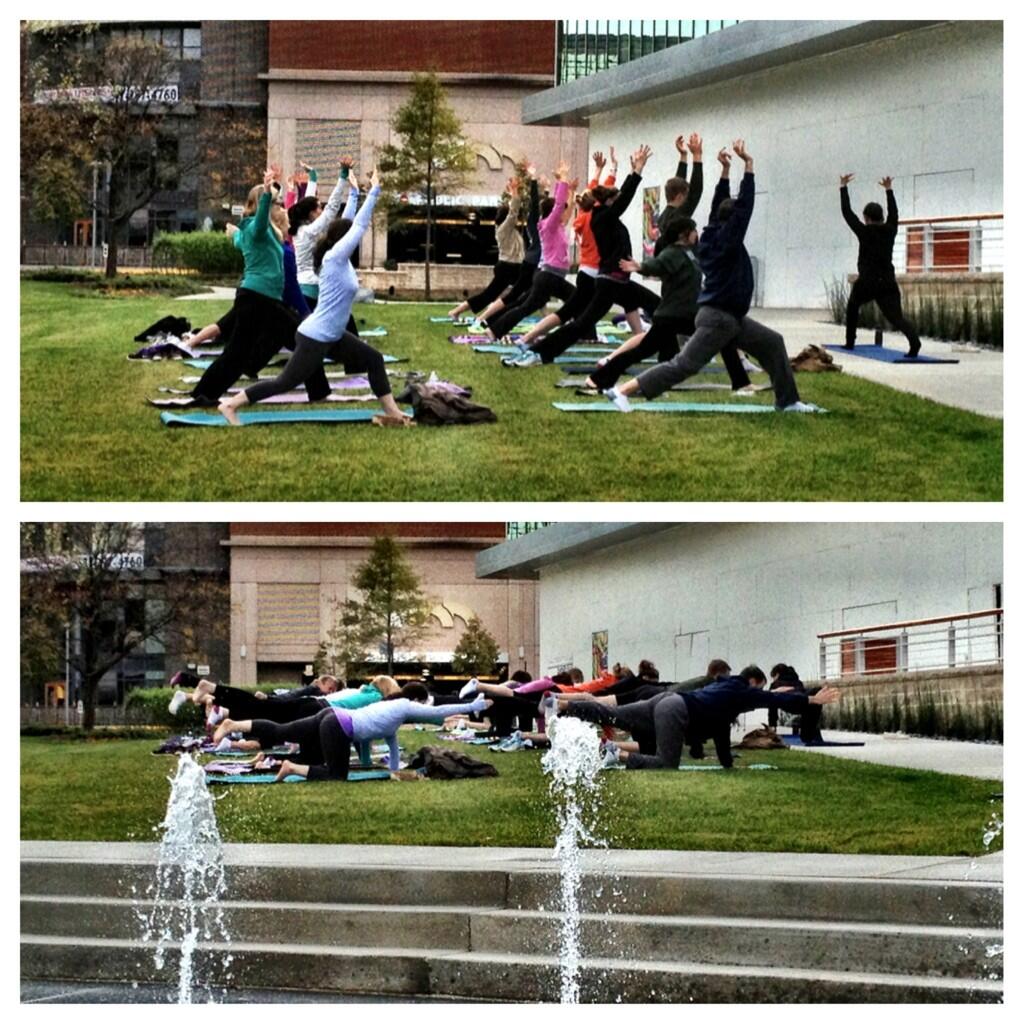 Damn, that girl on the end in the lavender top has a really nice butt...
Source for the picture:
Mosaic District Twitter feed
. I'm pretty sure that picture was taken last fall and that is yours truly on the end in the back. I was looking at it and like...hey, I have
those tops
. And that
brown curly ponytail
. And that
yoga mat
. That's me!
Weekly mileage:
9.8 miles. Heh, I ran more than that in one day last week!
Notable eats
I really eat a lot of the same things over and over, but I'll try to feature a few meals here a week.
I'm a fantastic food photographer; I know. I call this: Cheesy Bread Phallus Plate.
I'm sure you've seen
this method
featured on Pinterest--well I will attest to the fact that it works! I've made it a few times, and it is definitely tasty and a cute presentation. This was pretty basic interpretation of it: 3 eggs, 3 TBSP cream, shredded sharp cheddar cheese (about 1/3 of a 8 oz. block?), salt, and chives. I used a regular baguette cut in half (with a little saved on the side) to make two servings.
Dan's all cut up (because, full disclosure, some of mine fell apart)
Notable life events:
The aforementioned visit day at *future grad school*! Really starting to look forward to next year, instead of just feeling constantly panicked. Once I put my name on the dotted line, I'll discuss this more openly!
Going with Dan to get the supplies for a mini balcony herb garden! Well right now it is really just an herb, not an herb garden--Home Depot's herb selection was picked over, so we didn't find everything we wanted. We're working on getting it filled in this week!
Single, sad herb.